Winter or Summer - Make plans to come and enjoy all our village has to offer.
About us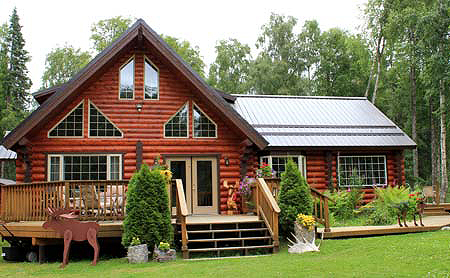 While in Talkeetna Alaska you will find lodging in our log cabins or B&B suites or rooms to serve as your base camp.
Our accommodations will make a great jumping off point for all your memorable Alaska winter or summer vacation adventures: (Mt. McKinley) Denali viewing, flight seeing, salmon fishing, river raft tours, Alaska railroad adventures, hiking, wildlife and bear viewing, photography, and, of course, winter adventures include: cross country skiing, mushing, snow machining and northern lights. You will want to stay in Talkeetna for a few days to enjoy all the area has to offer.
The unique cabins are each handcrafted custom design, inside and out.   A stay in either of these cabins will give you a true appreciation for the handcrafted details and artistic workmanship.
We offer wireless internet access, and can assist in making reservations for adventures of your choice. In addition, Mike has made it his quest to keep our guests informed with first hand knowledge of where the best fishing spots are.  We hope we can assist you in wonderful Talkeetna accommodations and scheduling your Talkeetna Alaska adventures. We offer lodging in our rooms in our B&B or Private Cabins. We hope you choose to contact us about information regarding Talkeetna lodging.
WE ARE OPEN YEAR ROUND SO PLAN YOUR WINTER GETAWAY COME ENJOY TALKEETNA and do a little "CABIN CAMPING"
Make your reservation now for a great winter getaway at great rates.  Whether your interests are a romantic weekend, a family fun filled winter vacation cabin, family and friends for cross country skiing, snowshoeing, dog sledding, or snow machining.  We have the perfect cabin, suite or room for you.
Come join us for the local winter entertainment.  Denali Arts Council presents plays and improv throughout the winter as well as many other events.  Other evening entertainment could include music Fairview Inn features live bands on the 1st & 3rd weekends throughout the winter.  Of course, we cannot forget Talkeetna Bachelor Auction and Wilderness Woman Contest.  Consider staying in Talkeetna for the Iditarod. Talkeetna offers the closest lodging to the restart as well as transportation to Willow for the Iditarod Restart.
Mike & Kathy Stoltz